While it might be easy to think bananas are all the same, here at Chiquita, we pride ourselves on producing the best quality and best tasting bananas.
From seed to store, we make sure every part of the banana production process is attended to with the utmost of precision and care. Let's take a closer look at why we think Chiquita is the best banana brand!
Our bananas are tops for taste and quality
Our growers, pickers and packers are the best in the business. They work hard to ensure that our Chiquita bananas reach your shopping basket in the best possible condition and at the optimum stage of ripeness for you to take home. Producing great tasting superior quality bananas is at the heart of everything we do. We have the highest standards possible: we take amazing care over everything from the way our banana plants are grown (and the people who grow them) to the way they are presented in store. This is because we know that it's attention to these details that makes the difference between a truly great banana and all the rest.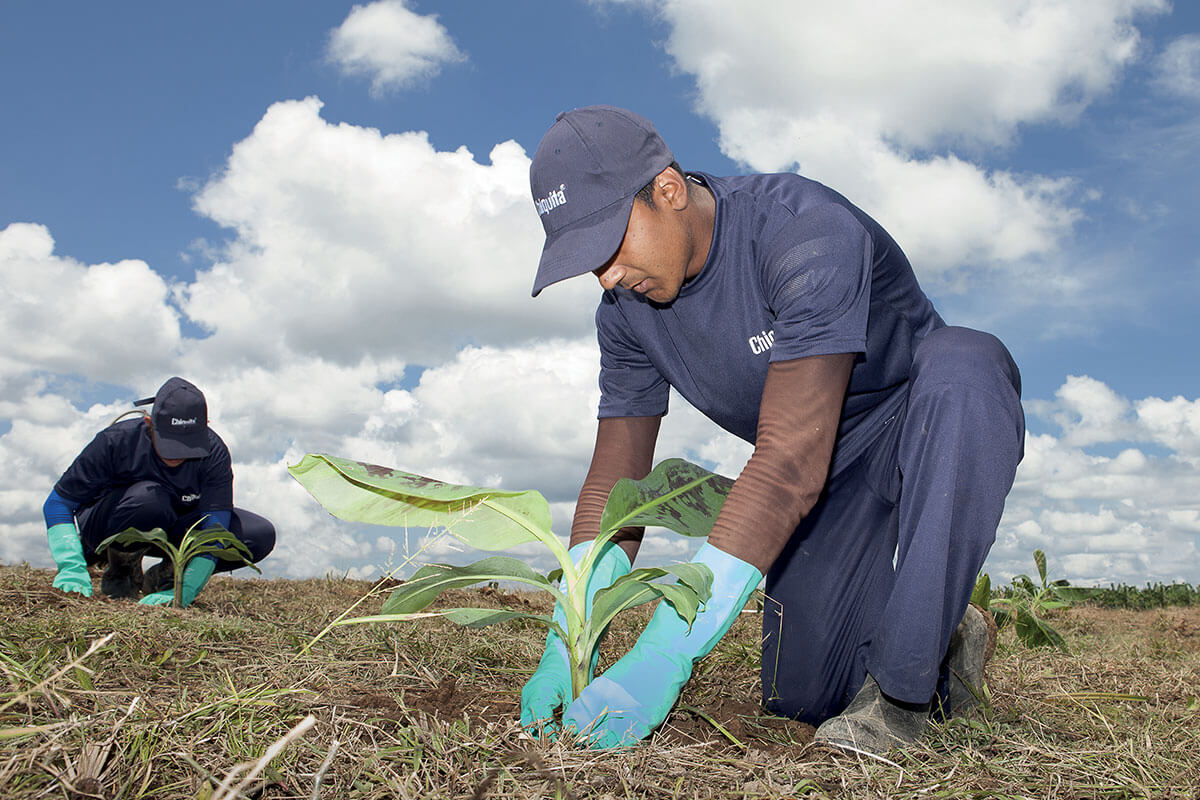 Our customers love us. So we've heard!
Our research* has found that 96% of consumers around the world not only recognize the Chiquita brand but rank us highly for taste, freshness, and quality. If we weren't so yellow, we'd be blushing! The banana industry is a fast-evolving and highly competitive marketplace, and we've had to work hard to achieve this level of recognition and acclaim. We're always looking for great new ways to meet the needs of our consumers and we're incredibly pleased that this is recognized. Thank you, banana lovers!
* Source: US Brand Health Tracker fielded October 2019
We focus on quality and freshness
Research* has found that 72% of consumers consider quality and freshness as the most important attributes when buying bananas – even more so than for the rest of the fruit that they buy. This is an area we care deeply about, and through very strict regulation and simple, easy to understand instructions, we can make sure that only the best fruit reach the shelves of your store. Our bananas must be handled like the precious cargo they are and stored in a cool and humid area under strict temperature control and ideal ventilation. Everyone in the supply chain has access to our instructions, so everyone has all the knowledge they need to handle and display our bananas at their very best.
* Source: Nielsen Consumer Decision Hierarchy report – US Banana category, fielded Q2 2019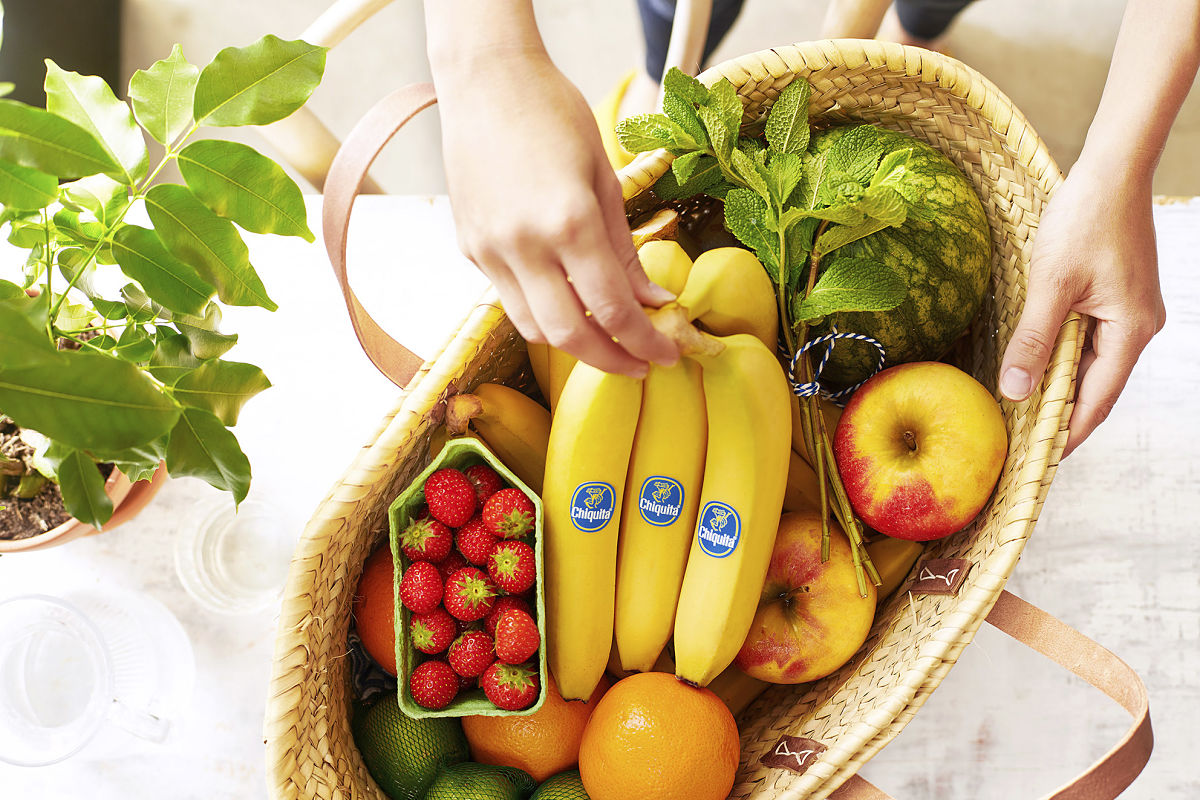 We developed a tool to check the right banana color
Bananas in the store just need to look good – period! We worked closely with our ripeners, retailers and other partners to create a clever color scale that shows the recommended color for ordering and selling our bananas – so our retailers can be sure they're providing their customers (you) with bananas at their optimal ripeness (and color). More than half of consumers have told us that color and appearance are really important when they're looking to buy bananas – and if people buy bananas on impulse, more often than not it's because they look so good. This helps our customers to identify how they want their Chiquita bananas to look when they buy them, and we also have a pocket color scale showing the recommended color for ordering and selling so our retailers can be sure they are providing banana lovers with fruit they'll really want to buy. It's a very practical tool that everyone can use to ensure quality and the best appearance are maintained from plant to plate.
We audit our retail partners
We have an expert team of retail specialists across the USA and Europe who visit the stores where our bananas are sold to conduct our special audit process that ensures Chiquita bananas are always of the highest standards when displayed at the store. Using this seamless process and a third-party system, our sales teams and retailers can ensure that retail conditions for our precious bananas are perfect, all the time. We take pride in being at the forefront of banana quality and innovation, and our investments in caring for our bananas to guarantee top quality and taste.
Our iconic Blue Sticker means there's a special fruit inside
For over 70 years, our iconic Blue Sticker has been the seal of approval for our high-quality fruit, and a celebration of fun. Throughout the years, we've run fun limited editions of our Blue Stickers, using the latest technology or featuring entertainment and images from well-known artists, as well as focusing on important causes we're passionate about, like breast cancer awareness. When you peel back the lovely yellow skin of your Chiquita banana, you will find unforgettable taste and quality, and also really super amounts of important vitamins and minerals like the 'happy' vitamin B6 and potassium, which is good for the heart and blood pressure. To show this, and all the care we take, we put our much-loved and iconic blue sticker on every banana. People love to collect them, and we love to find great new ways to present our stickers!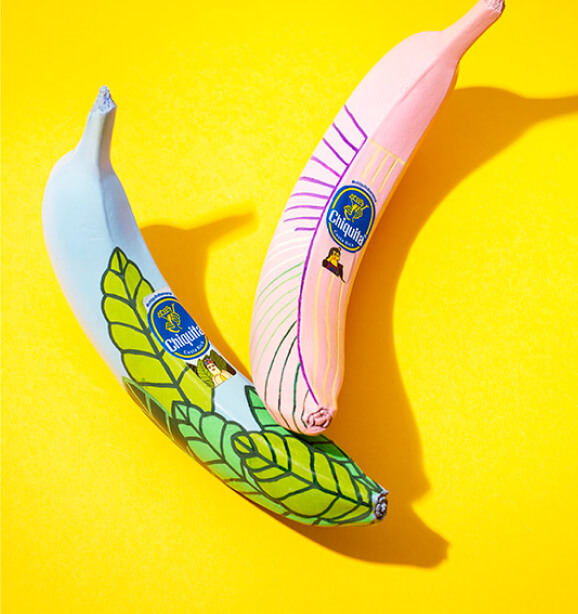 Behind the Blue Sticker' tells our great sustainability story
Our iconic Blue Sticker also tells our sustainability story. We're committed to sustainable farming, biodiversity and giving back to the communities in which we grow our banana plantations. We're constantly working to create more efficient and sustainable processes throughout our supply chain, as well as ensuring a happy and healthy workforce that recognizes gender equality and women's empowerment. Our Farmer's Code is based on improving efficiency, increasing yield, and reducing our environmental impact, and we also work hard to ensure no banana is wasted. We are also working hard to minimize water use and protect water quality, and our policies are based on the results of WWF studies.
As you can see, there's a lot more to Chiquita bananas than just a delicious fruit in a tough yellow skin. Don't forget to look for the Blue Sticker next time you reach for a bunch of bananas for your basket – it's the guarantee of all the important things we believe in: taste, quality, care, and a truly passionate commitment to sustainability.